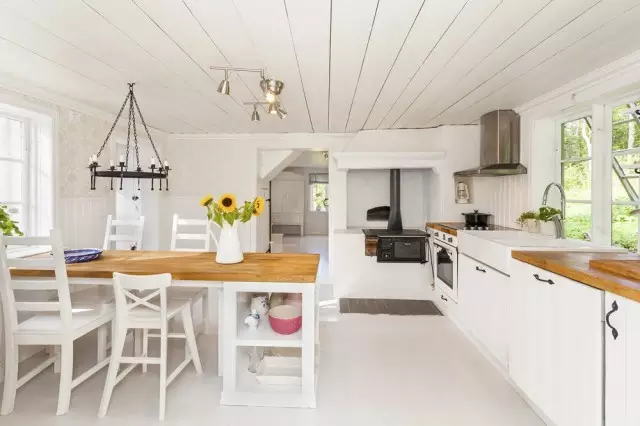 橡木檯面出現了污漬難道只能將整個檯面全部換掉嗎?不用擔心!有了這些小技巧就可以輕鬆去除這些可惡的污漬啦!
Why replace the whole thing when we've got these handy tricks to help you remove stains from oak worktops?
橡木獨有的氣質:溫馨、紋理,沒有什麼比橡木材質的廚房檯面更奢華、更高大上的了!但是不可否認這種材質需要悉心呵護。
There's really nothing like the warmth and texture of a solid oak kitchen worktop but this gorgeous material does need some special care to stay in top condition.
如果將熱的炊具直接放在橡木檯面很容易出現印記。幸運的是今天我們會教大家一些簡單的方法去除這些可惡的污漬。
Unless protected the oak can mark easily if hot cookware is placed directly on the surface but luckily there are some simple methods for removing small stains without having to replace the whole worktop.
由金屬而導致的污漬 Stains due to metals

木頭中的單寧酸與金屬材料(比如鐵)會產生化學反應,在水的作用下會產生藍黑色的污點印記,而不幸的是橡木尤其敏感。

The tannic acid in wood reacts with ferrous metals, such as cast iron, where there is moisture present, and results in a blue-black stain and unfortunately oak is particularly susceptible to that.

為了防止染色,請將鍋、烤盤放置於三角支架,請勿將刀具或者其它金屬材質的東西直接放置於橡木檯面上。確保及時擦乾檯面水漬,保持乾淨、乾燥。切記,水是催化劑,只要是乾燥的金屬就不會在木頭上留下印記。

To prevent staining, place pans and baking trays on softwood boards or trivets and avoid knife blades and other metals that may contain iron from coming into contact with the wood. Always wipe up any spills on the worktop and don't let water stand on the surface. Remember that water is the catalyst; dry metal won't mark the wood.



由水分而導致的污漬 Stains due to moisture
大部分普通污漬是由於水分而引起的,可以通過檸檬油配合細鋼絲絨去除。

Most pale stains caused by moisture can be tackled by working the area with very fine wire wool using lemon oil.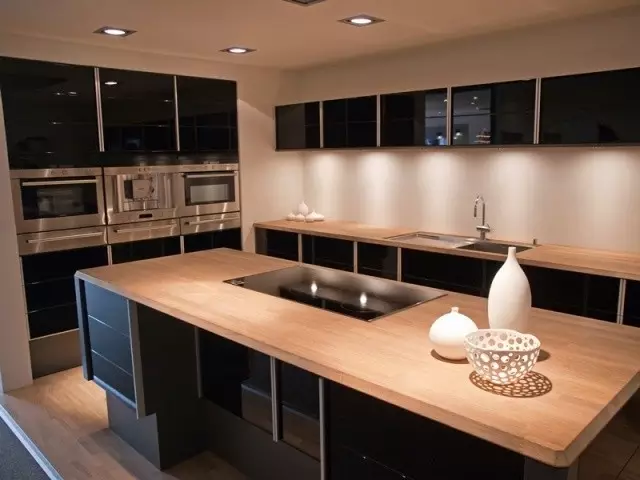 一些頑固污漬,比如由於直接接觸熱金屬而導致的印記:對於稍淺一些的印記,在整體全面的用磨砂紙打磨整個檯面之前可以先嘗試只打磨有印記的地方。

Deeper stains caused by contact with hot metal are a dark color, Sanding by hand using fine abrasive paper will remove light stains and it's worth trying to treat the marked area before you sand the whole thing.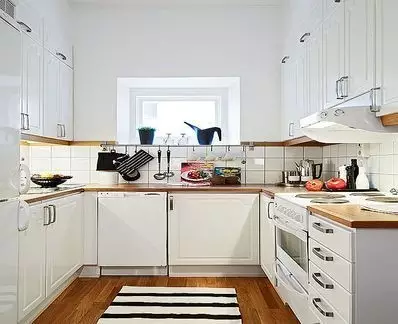 順著木紋紋理進行打磨直至印記消失或者變淺。如果打磨沒有效果,可以在有印記的地方抹上漂白劑,如有必要可以停留一晚上。
Sand in the direction of the grain until the mark has been removed, or reduced to an acceptable level. If sanding doesn't remove the mark you can apply household bleach carefully to the discolored area, leaving it overnight if necessary.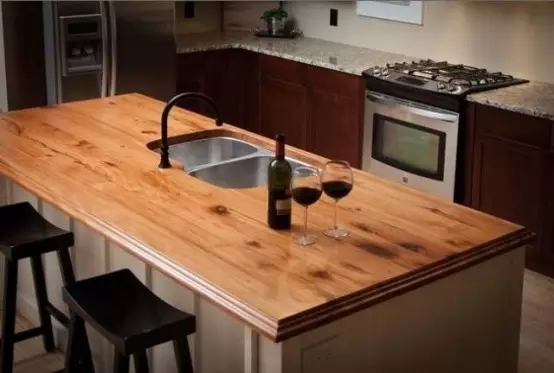 為了保護檯面再次被染色,可以在其表面上一層油。
Re-finish the surface with Danish oil to give the wood some protection from further staining.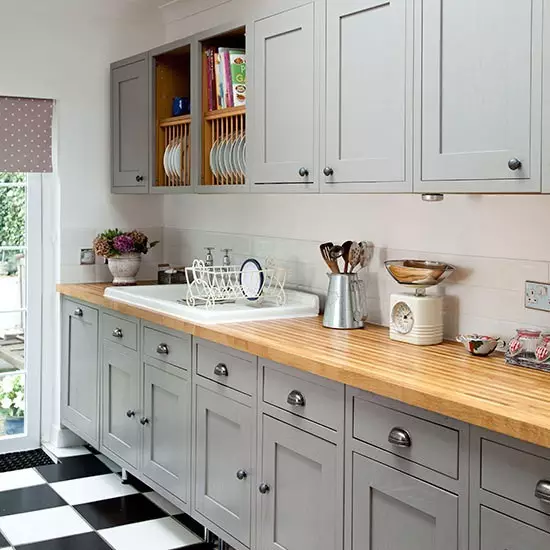 如果印記非常大或者染色程度非常嚴重則需要對整個表面進行打磨。如有必要,需要在專業人士指導下採用機器進行打磨。
Depending on the size and depth of the mark, you may need to sand the whole of the surface to avoid a patchy finish. If so it's worth using an electric sander or consulting with an expert to get the job done to a high standard.